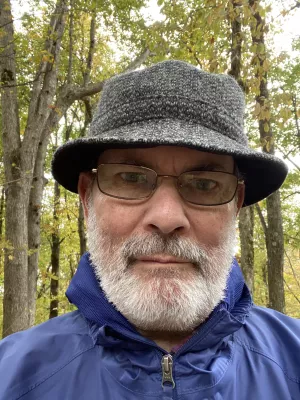 Born in Cincinnati, Ohio, in 1949, my father was transferred to Memphis in 1962.  Our family of seven arrived in time for me to begin my secondary education at White Station High School.  Upon graduation I attended Brown University in Providence, Rhode Island, receiving a bachelor's degree in ethnomusicology in 1971.  
After thirteen years in the insurance business, I left for the General Theological Seminary in 1983 and was ordained an Episcopal priest three years later in Chicago.  Nearly five years ago I officially retired, having served full-time in a variety of settings and roles - within churches, hospitals, and a retirement community - in Eastern, Mid-Western, and Southern parts of the U.S.  Along the way, I suffered a divorce.
Returning to Memphis in 2001 after a thirty-five-year absence, I began chaplaincy work at Methodist Healthcare, where I met my wife, Eyleen Farmer, another Episcopal priest, now also retired (from Calvary Church, in downtown Memphis).  Eyleen is the founder of a sister organization to Thistle Farms called Thistle and Bee, devoted to the care and thriving of survivors of sex trafficking, prostitution, and addiction.
The majority of my work and passion since I retired from full-time, paid ministry has been in two arenas.  As a part-time interim pastor, I've served as an interim priest-in-charge of several small and large congregations in four states.  Most recently, I have worked and lived in both Montgomery and Scottsboro, Alabama. On June 1st, I began serving as Vicar (priest-in-charge) at Holy Trinity Episcopal Church in Memphis, which shares a campus with St. George's School, dedicated to serving children of color.
I've also become active in racial healing and justice work outside the church.  Having served a term on the Countywide Juvenile Justice Consortium, I was asked to join an advisory group for a new Youth Advocacy Center in Shelby County.  I want to engage in that work with faith communities and the community at large around issues of 21st-century education and care, seeking a deeper understanding of trauma, adverse childhood experiences (ACEs), and what's now called "healing-centered engagement."
Since the summer of 2017, I've been mentoring a formerly-court-involved African-American teenager.  Rashod is, in my view, a young man who would have gone to a resource/assessment center for his misdemeanors, rather than juvenile court, if such a center had been available to him.
Finally, my involvement with the Lynching Sites Project of Memphis (I'm now President of the Board), affiliated with the Equal Justice Initiative in Montgomery, has been about my latest response to a sense of call and deep desire.  I want to be an instrument of healing and harmony, wherever I can, across racial and other divides, so that together, we can seek truth and justice for all God's children, in Memphis and beyond.                  
    ~ June, 2019